So Last year, around the same time June ? July, ages ago …… i posted a picture of a JZZ30 Soarer sitting in the back yard of the old "OGC" where i used to live.
I purchased a JZZ30 that popped up on local sales for $800. The guy selling it was… well lets just say, it was his sons car…. Regardless it was a bargain, it wasnt registered, he believed it had a "BLOWN MOTOR FOR SURE" so i brought tools and fluids with me and started it all up and got it running, It wasnt a "BLOWN MOTOR" at all, in fact it was nothing more than the PS pump was whining from no fluid and the timing belt was old as shit clacking around. The car was totally thrashed out body/interior wise by some kid, not that i cared as i was going to lighten the load a bit once i got it home anyway..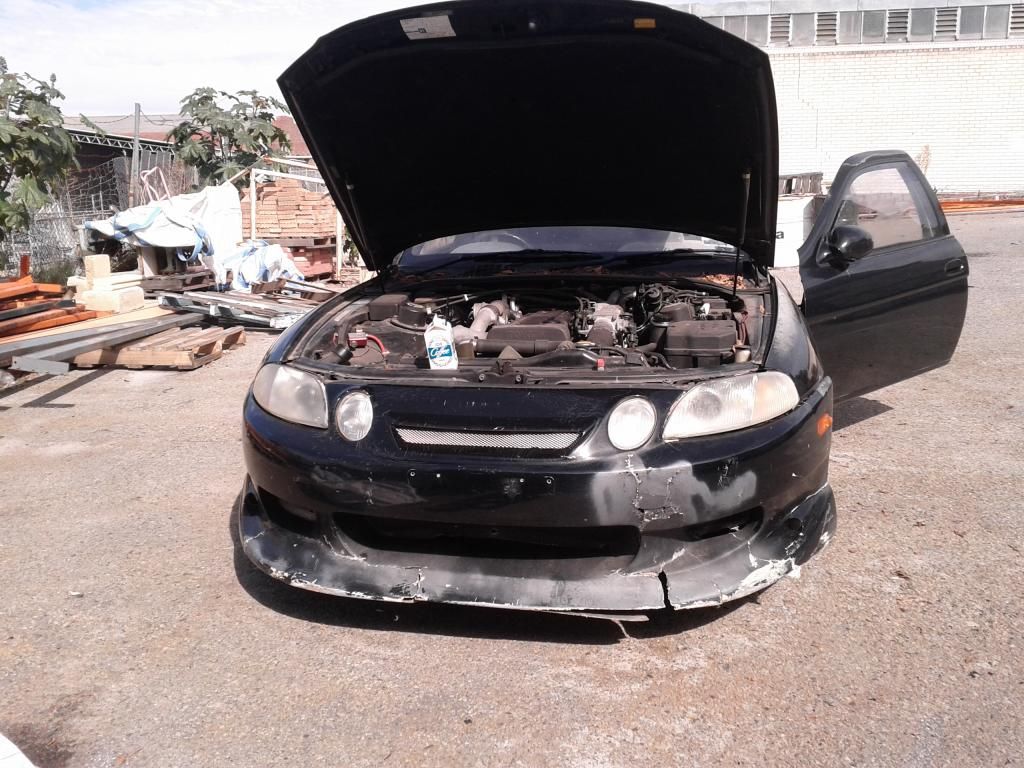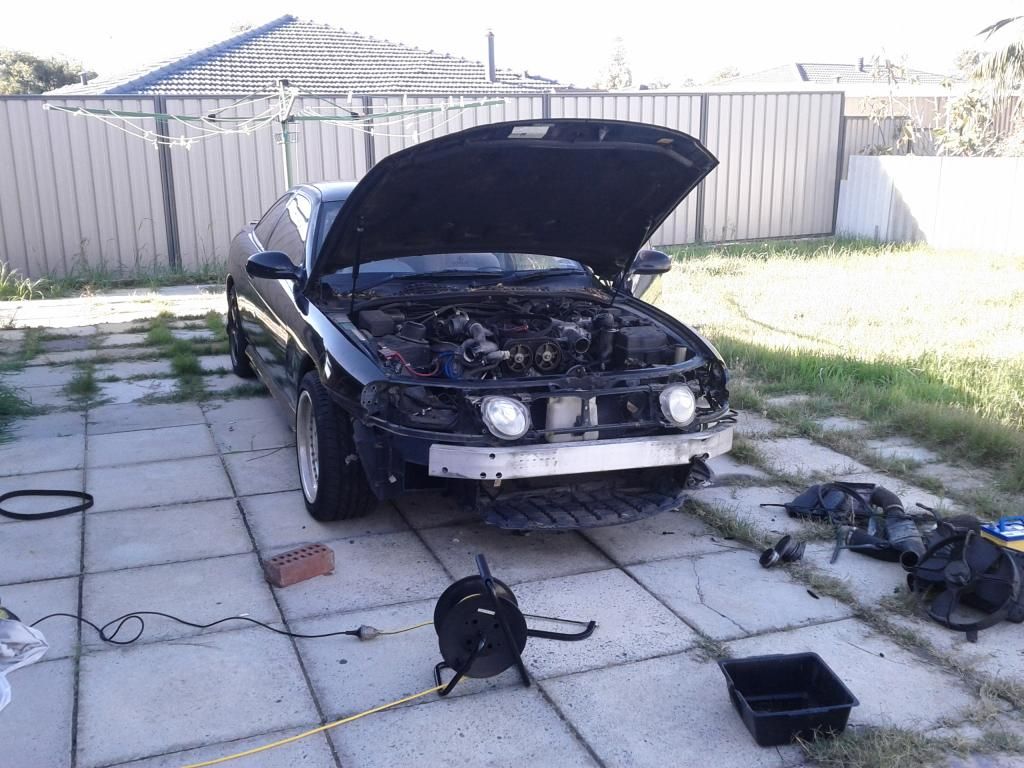 I drove the car to OGC and got to work. As usual i invited over some crew to help rip apart what was left of the already garbage interior and body
We estimated that we removed around 200KG – 250KG of luxury from the JZZ30. Combined of the entire wiring of the whole car, all ECU's, all interior, dash, aircon parts, and sound deadening.
Motor of Choice ?
JZX100 1JZGTE – VVTI with R154 remote shift manual.
I scored this package (all pre-removed from the halfcut) from Mr Mayhem Maytech himself.
Very happy with price and quality, the motor has approx 111,500 kms on it from a crashed JZX100 Chaser.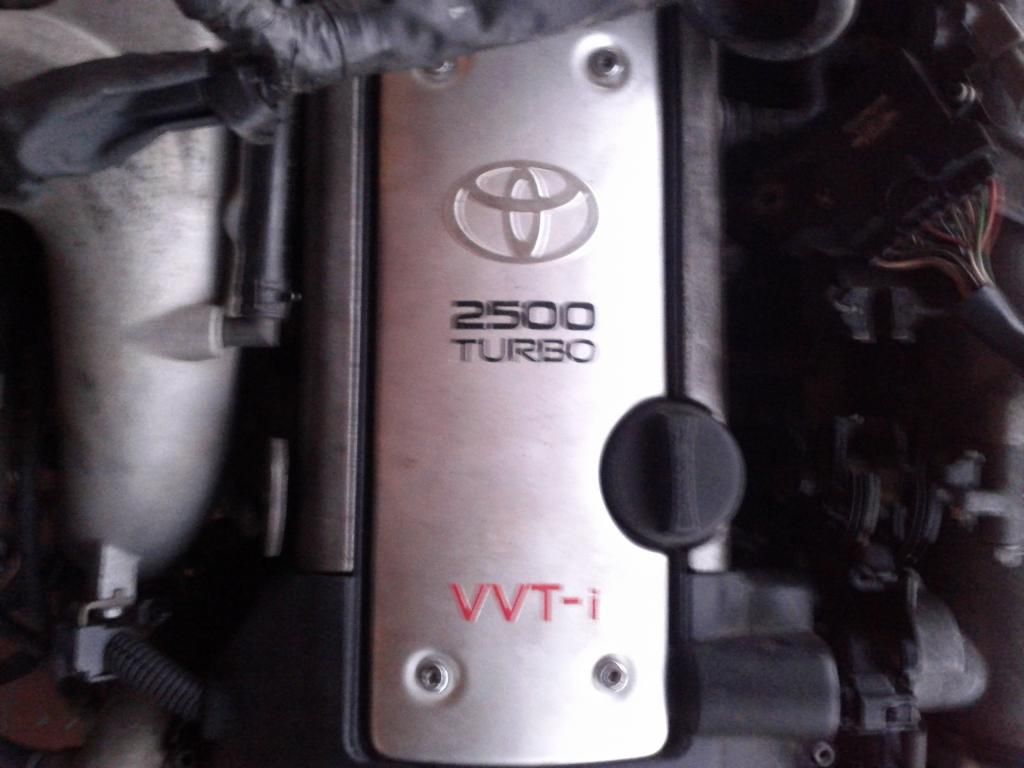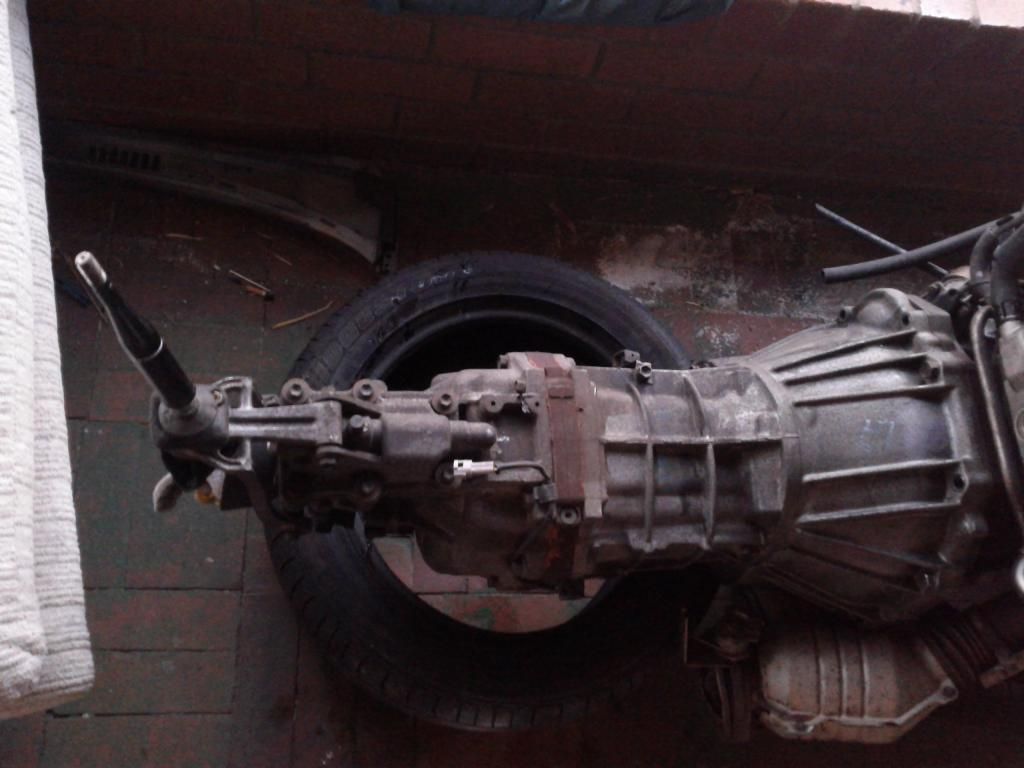 After a quick sump swap from Front JZX100 to Mid JZZ30 the motor was ready to slide on in.
We installed it using Holden (GM Chev) LS1 engine mounts which are pretty much the same as any other after market semi solid mounts.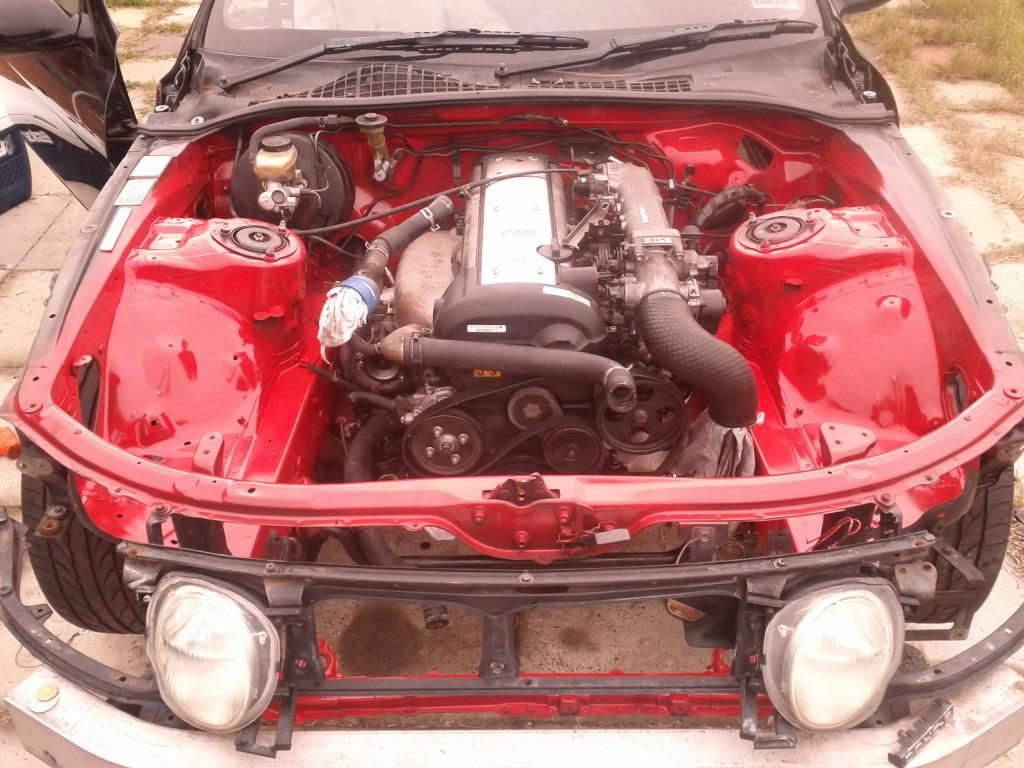 With the motor swap complete, a friend of mine sorted himself out a new workshop location, deemed the "Big Steveos 600 Club" half run by "Borneo's Race Prep"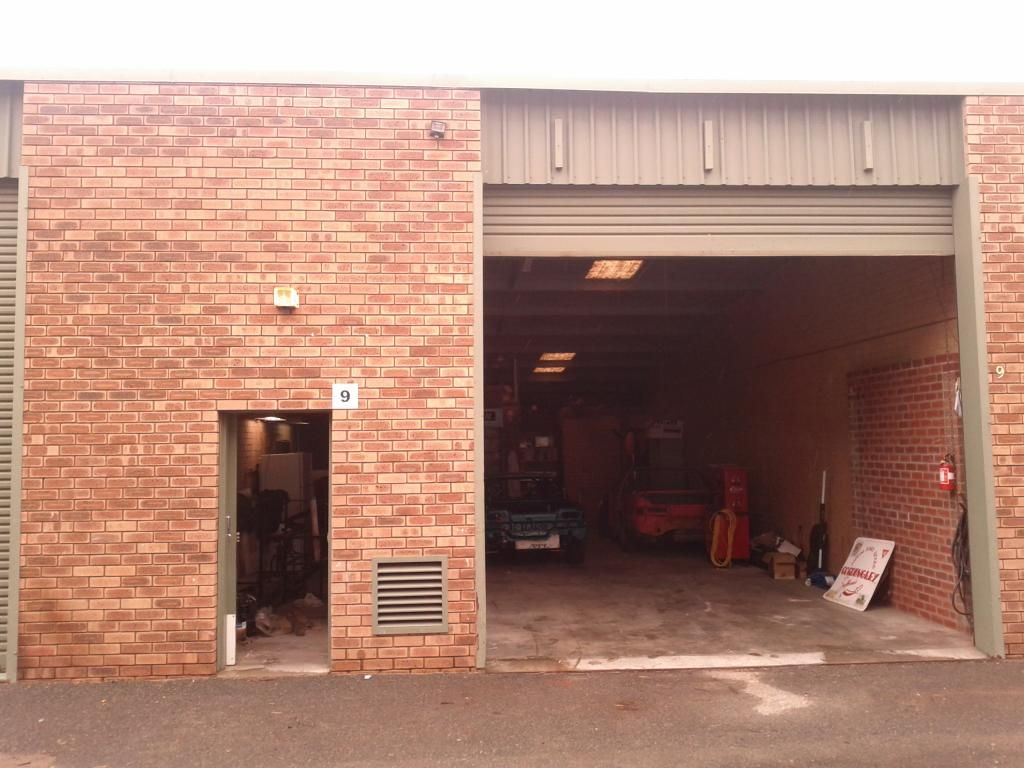 Next up:
Installation of a S13 Ebay Special twin core alloy radiator and Apexi (jp) cooler flipped for shorter piping!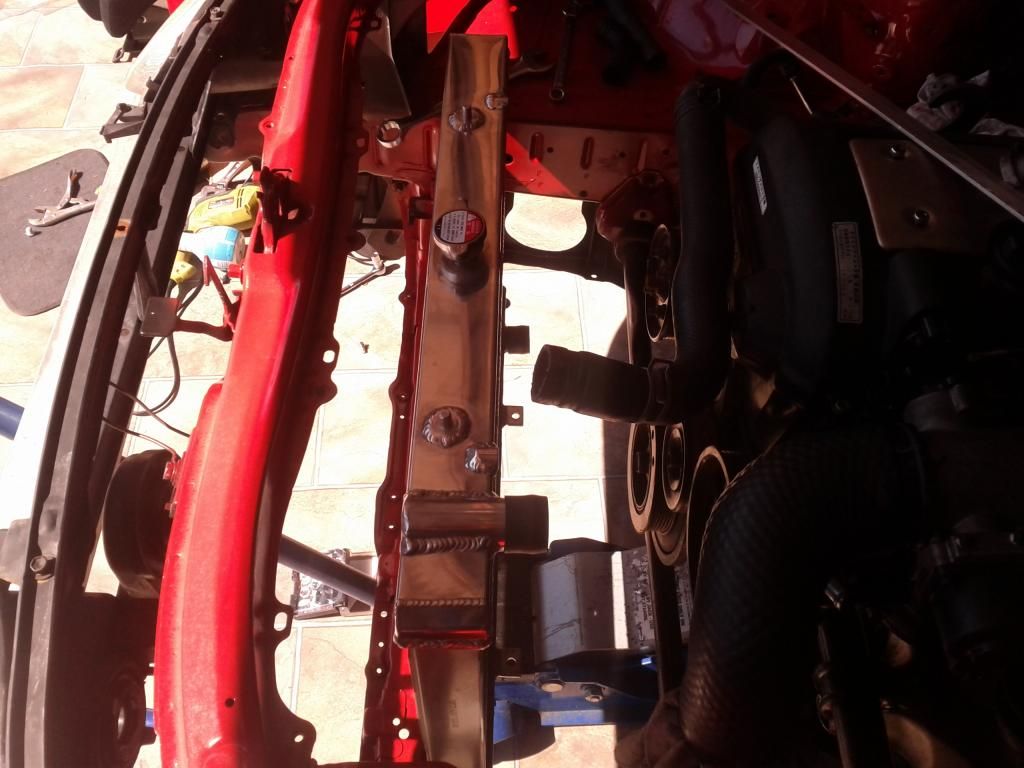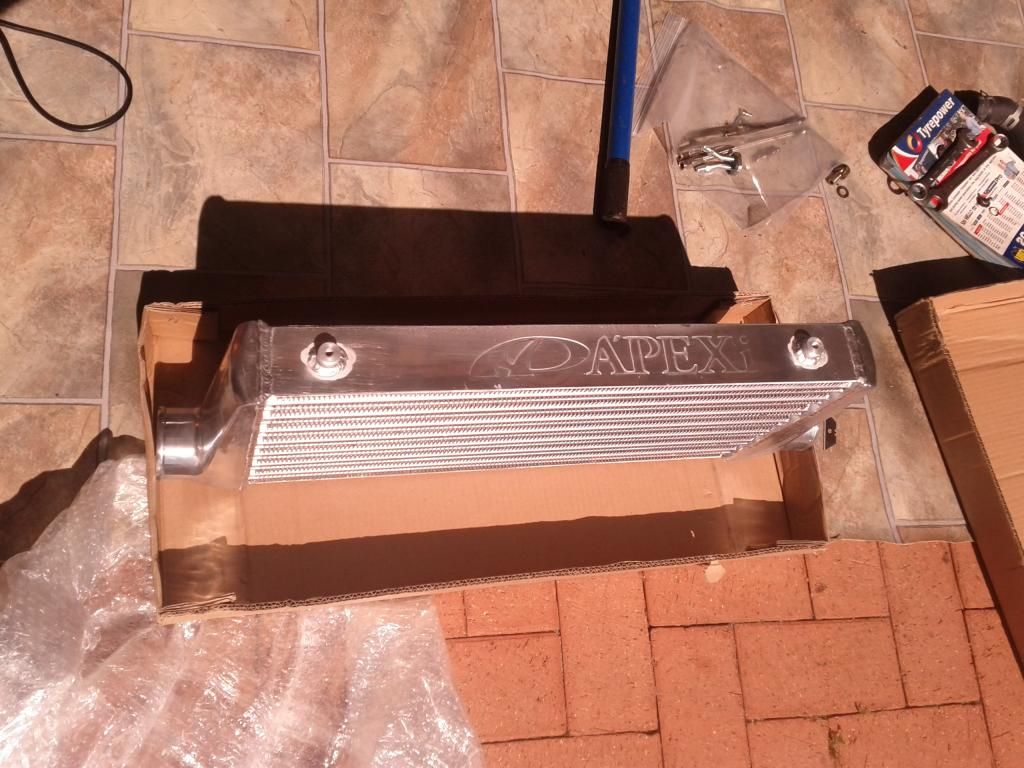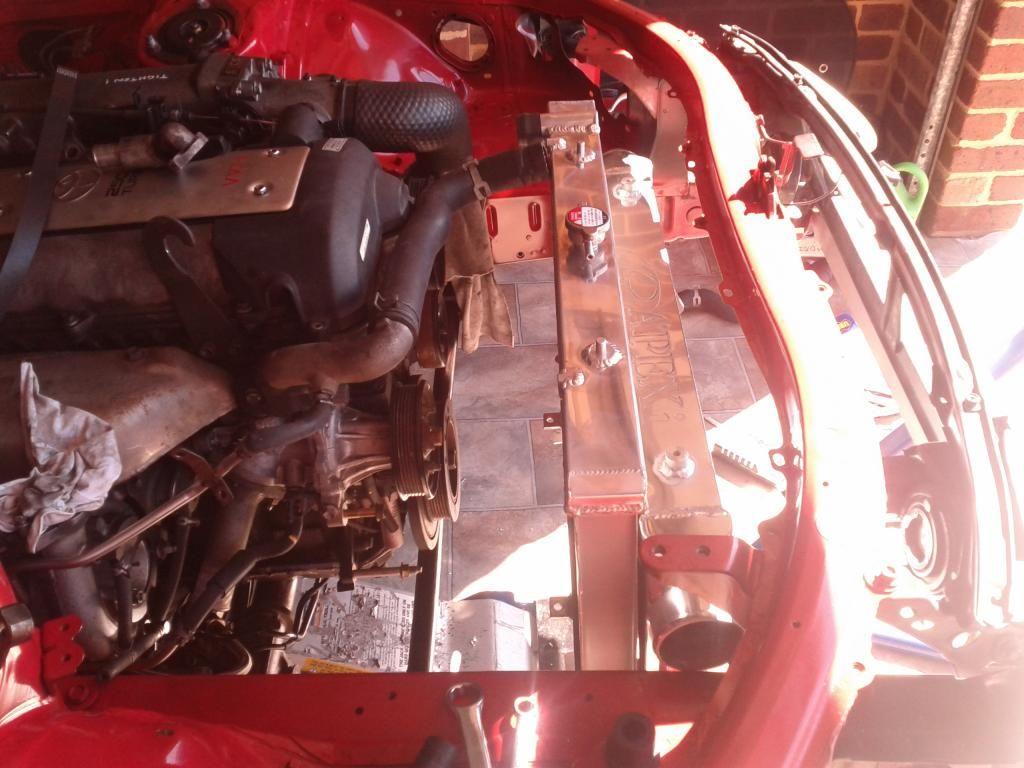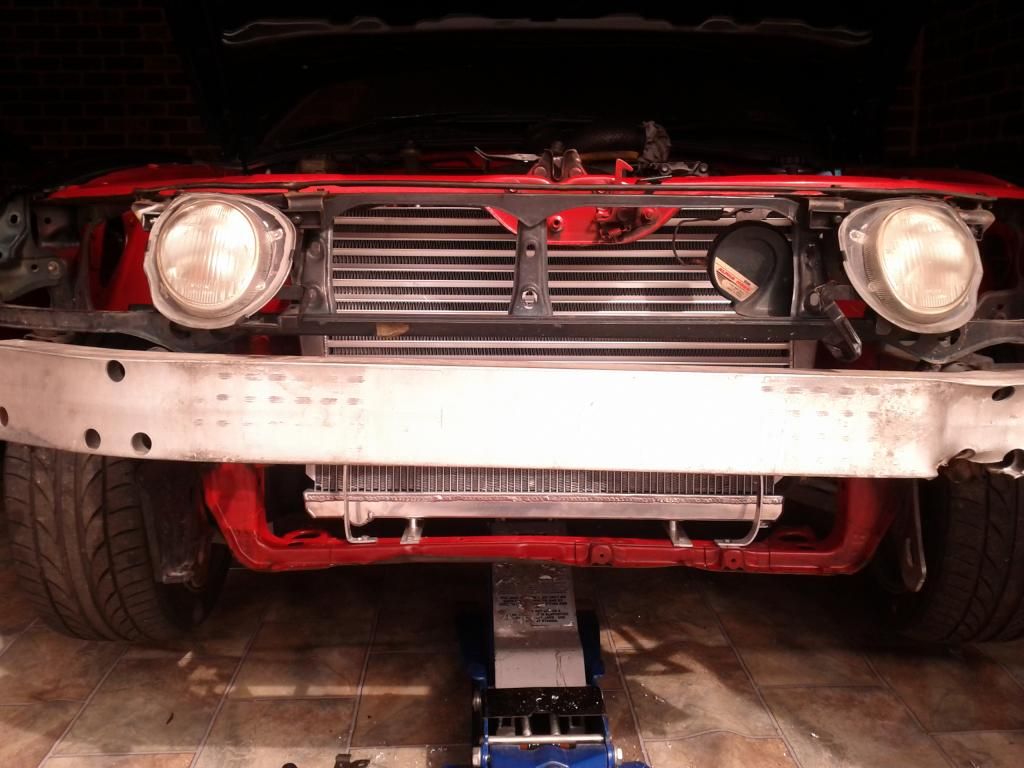 A big power steering cooler was added along with a big open mouth air intake to push air towards the Radiator and Intercooler as they sat so far back in the engine bay.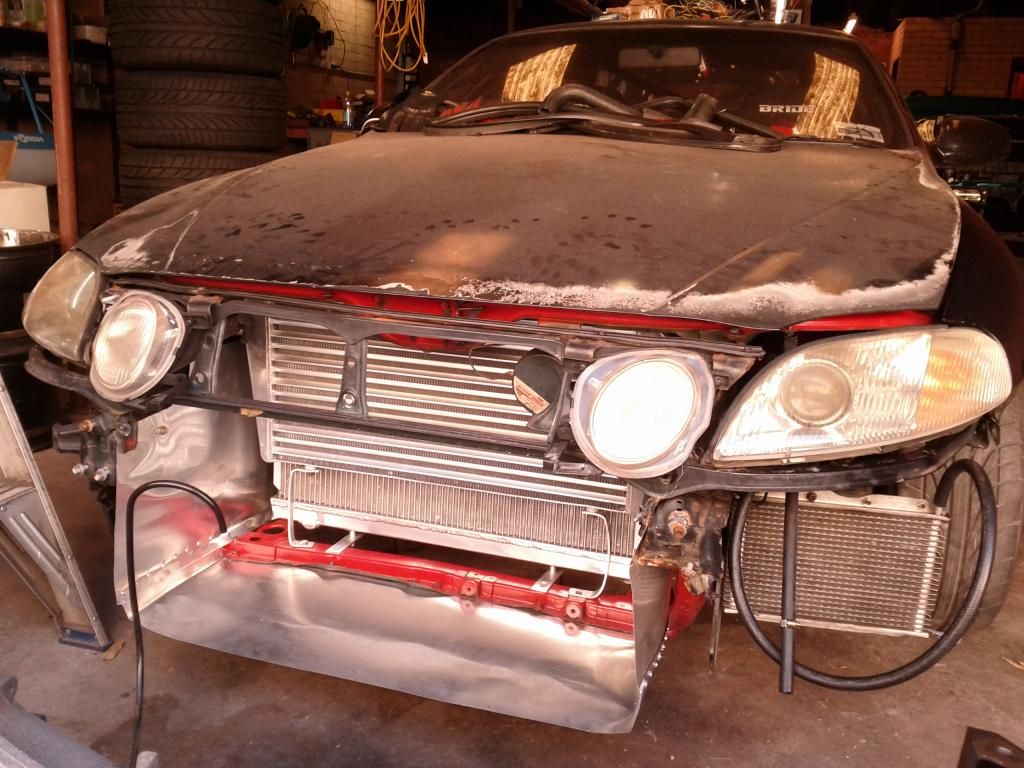 I made up a switch panel for all accessories i will need when on track, basic as, less complicated the better as my friend Matt Capp would say.
And before putting it all back in, i gave the interior a new clean slick of Red Rustkill Delicious RED ! (Same as my old Big Red MZ11)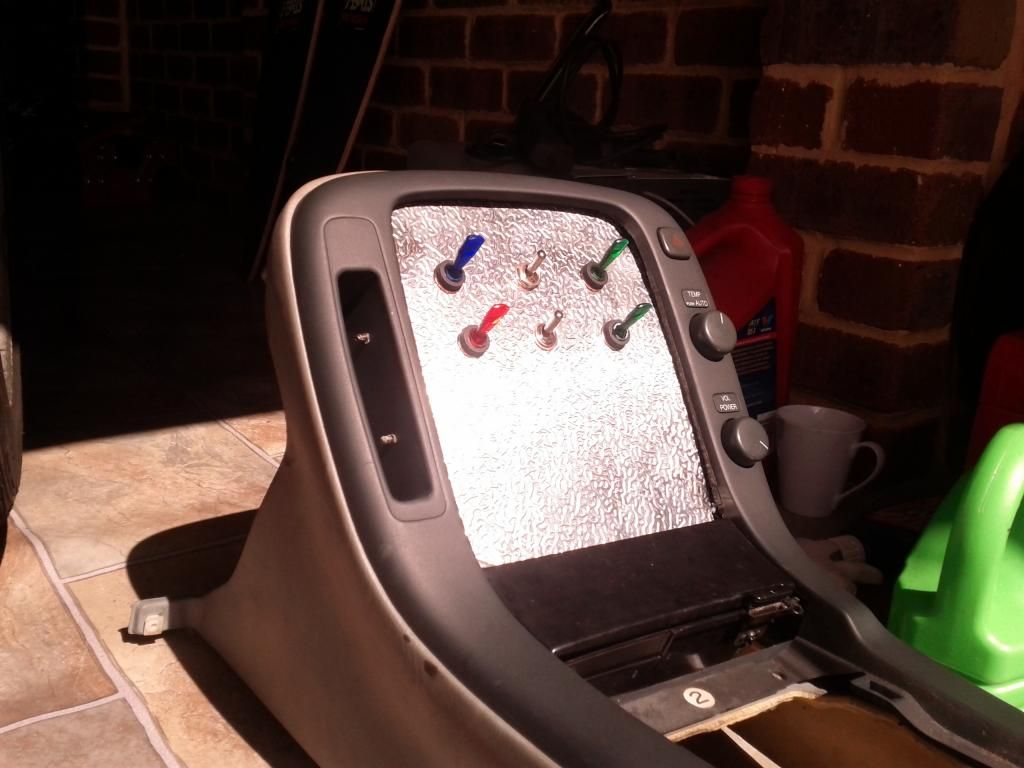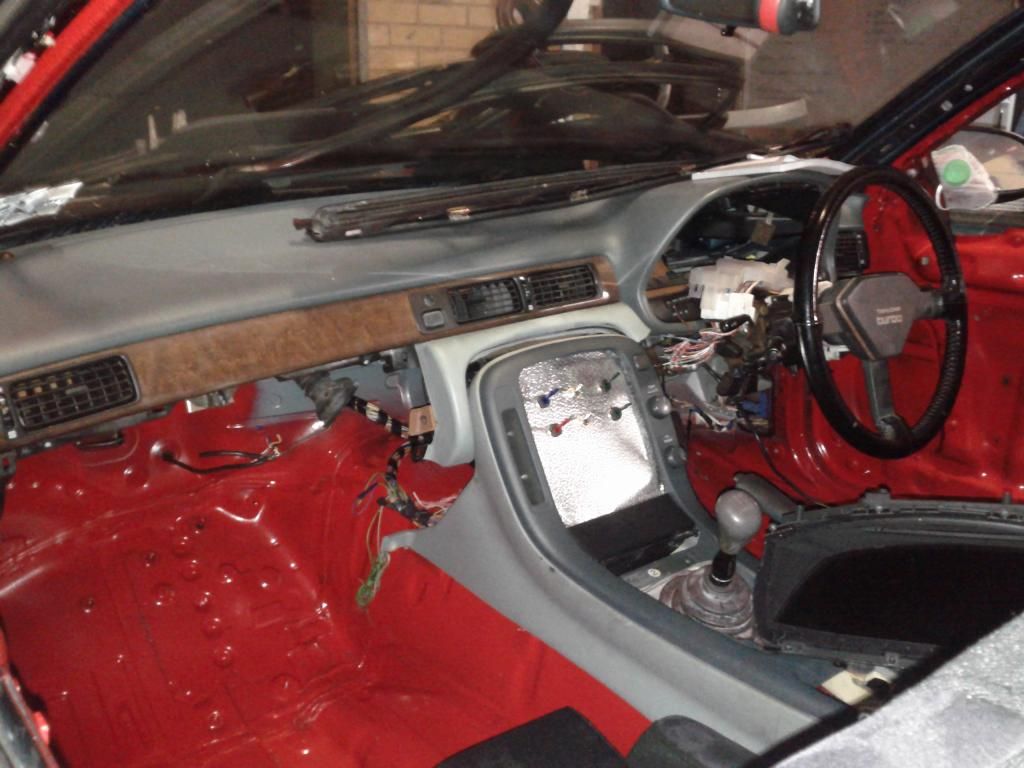 Along came some Bride Lowmax Seats and a set of ROTA D2-EX wheels in 18×9.5 +15 and 18×10 +15
With the interior looking very "race car" i had to get started on sanding the outside and putting some more Rustkill all over the big JZZ30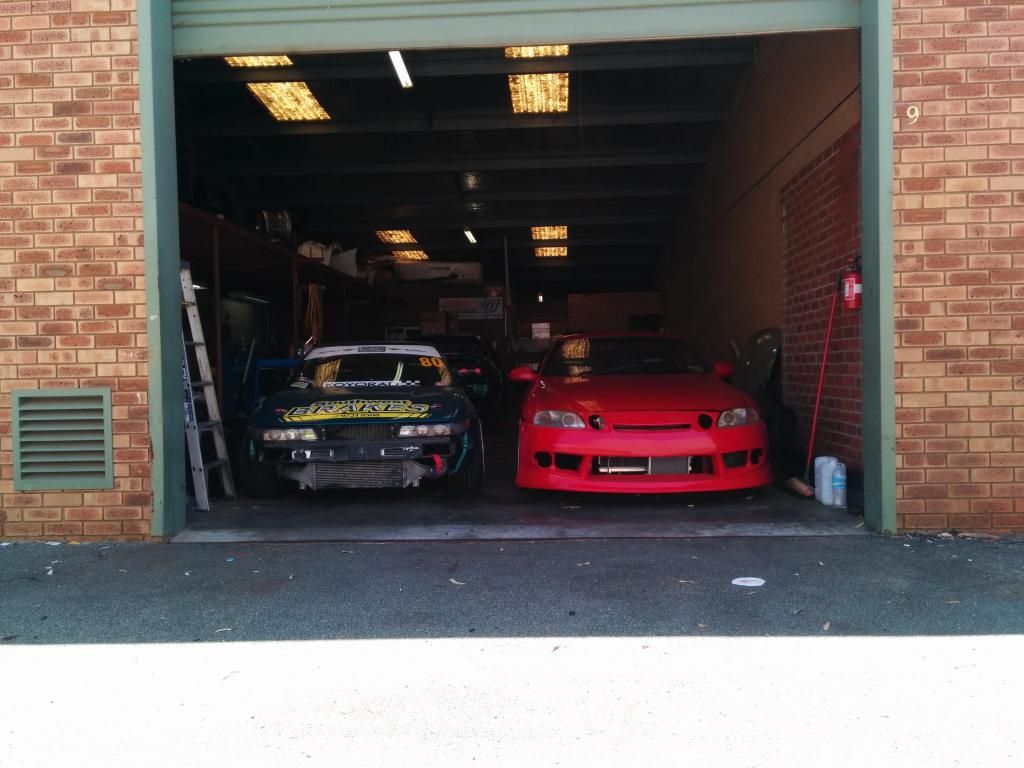 So once painted, looking pretty cool . It was time to get back into mechanics.
The JZZ30 needed to be able to shift its huge weight around a track , and to do so, a Solid rear end is required.
First i welded up the diff as usual, yeah, i work a good job now and i should spend $1000 on a 2Way TRD or KAZZ but really, ive drifted for 5-6 years with a "WELDED" diff, im used to it and im ok with it.
And the subframe from 1991 was used and worn, solid subframe bushes and diff bushes is 100% the way to go !
A few weeks went by when Hollys family came over to Australia from New Zealand, we traveled all around Western Australia with them giving them a good tour.
Sometimes we found the middle of nowhere :
Back in the workshop the exhaust was made by one of W.A.'s top drifters Borneo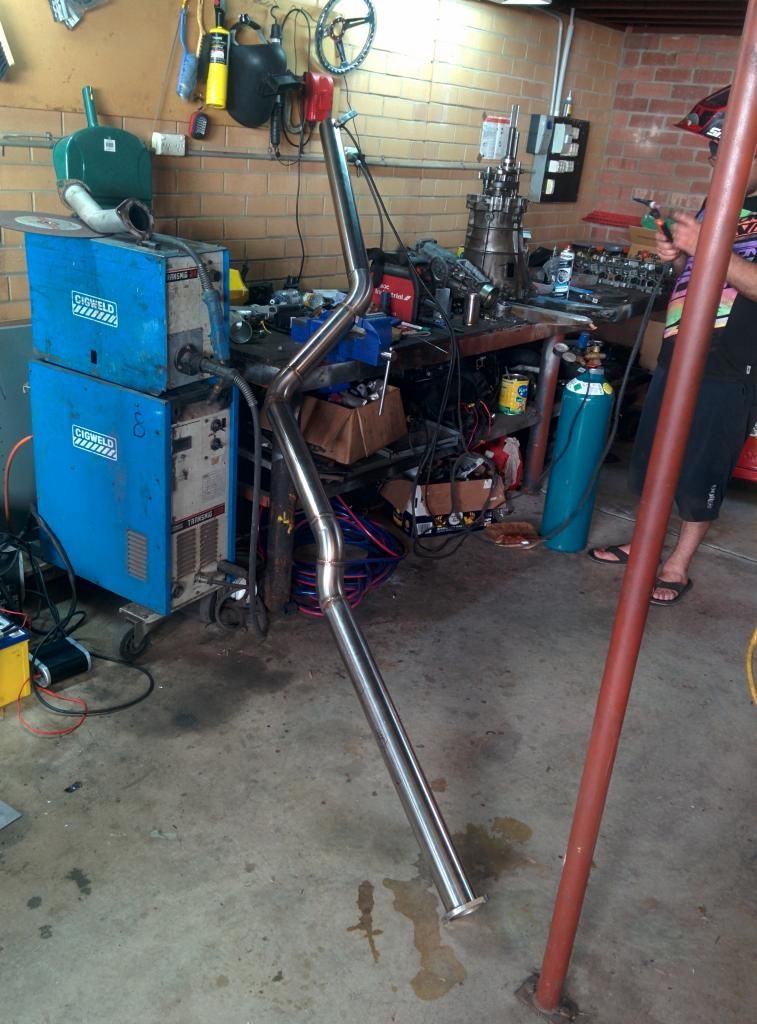 While i completed the interior and wiring with the help of the one and only Matt Capp a.k.a. The Genius
Almost DONE!
Another friend of mine Matthew Booker at Tyreright did an awesome wheel alignment for me with the specs i wanted
The car was ready, i brought it home to rest at the new home that Holly and I recently purchased in the northern suburbs of Perth.
The JZZ30 continues to hang with othe cool cars like Hollys brother Loch 's JZX90 Grande , and a friend Morgan's GZ10 :
The first shakedown test was awesome, but came with a few oil issues which i must sort:
More updates VERY soon, with videos and a new car to add to the bunch !
Hope you enjoyed my semi-breif update, i want to try and get back into this blog updating more often . Fingers crossed this happens!